EGUK2000 Home
Call For Papers
Organisation
Sponsors
Programme
Keynote Lectures
Registration
Deadlines
Social Events
Travel Information
On Your Arrival
Swansea
Contacts
Conference Photos
Eurographics
EGUK Chapter
---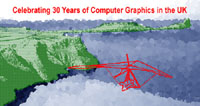 ---
Ketnote Lectures
---
Participatory Fiction: Authors, Audiences, and Computers
Dr Andrew Glassner
Microsoft Research, USA
People love to exchange stories. Stories provide a context for the events, feelings, ideas, and relationships that make up the fabric of our daily lives. When we describe an important experience in our life to another person, we often shape it in the form of a story. Stories are a means of communication.
Emerging computational and communications technologies will not eliminate traditional media, just as film did not eliminate novels. But they will open the door to new kinds of stories that can be told in new ways.
These new approaches to storytelling will not violate the principles that have served authors and audiences since the first campfires. The main questions must always be if the structure being considered serves the needs of the author and audience, particularly when the technical innovations seem appealing in their own right.
This talk will discuss some of the challenges to developing new forms of fiction, and offer my personal view of the landscape, pointing out some of the deadly crevasses to avoid and the lush valleys rich with opportunity.
---
Picture Imperfect - Running Away from Realism
Professor Phil Willis
Bath University, UK
The computer graphics community has expended substantial effort to make computer-generated pictures realistic, often with remarkable results. Sometimes though, this misses the point, so that reality becomes an end in itself. A picture is a form of communication, so realism can be wholly inappropriate. Worse still, the (literally) superficial triangular mesh representations needed by workstations are usually anything but useful for representing models. This presentation will take a discursive stroll through the author's own career in graphics, which started with realism and has increasingly moved away. As in the career, the talk will offer no serious conclusions but a certain amount of fun on the way.
---
People, Packages and Events
Professor David Duce
Oxford Brookes University
This talk will look at some of the history of the UK's contribution to computer graphics over the last 40 years. The coverage will be by no means systematic, but will focus on areas in which the speaker has direct knowledge. The talk will cover people, events (including some of the early UK conferences) and packages, including contributions that the UK has made to graphics standardisation in ISO/IEC.
---
VR in Europe, 10 Years On... but the Best is Yet to Come
Prof. Robert J. Stone, Scientific Director
MuSE Technologies Inc/Virtual Presence Ltd., UK
It's been some 15 years since Virtual Reality made its public debut in the US -- for the UK the experience was to happen some 5 years later. Since that time commercial and industrial support for the technology has waxed and waned. The VR community has been regularly haunted by the knock-on effects of unreliable products, poor after-sales support, unstable companies, unfocused academics and an obsessive desire on the part of vendors to oversell the merits of wearing immersive VR equipment. Yet, a handful of organisations on both sides of the Atlantic have, undaunted, been working to demonstrate the strengths of VR as a tool for bringing competitive and commercial advantage to companies involved with human-centred technologies and applications. Over the past 2 years, VR, in its attempt to promote intuitive, real-time interaction with three-dimensional databases has matured into a multi-faceted area, delivering systems for which there are, today, real applications and evidence of real financial, design, training and communication benefits.
One of the most important changes has been the arrival of low-cost multimedia computers and high-performance graphics hardware, with many of the recent Windows platforms and graphics boards outperforming their ageing "supercomputer" cousins. Coupled with this is the recognition that VR is no longer simply a branch of 3D graphics, but encompasses a rich range of "mixed media" digital imaging techniques, all of which strive to improve the communication between the human and sophisticated databases, with or without multi-user input. Another important discovery relates to the re-use of VR objects and environments, not just for similar projects, but across the breadth of user organisations. The spread of open VR modelling and run-time software, together with low-cost, even free resources from the Web, is also beginning to make VR much more accessible to the non-specialist user or developer than was the case just 2 years ago.
Consequently, new, skilled practitioners of VR and interactive visual simulation are emerging on a regular basis, not only from higher academic centres endowed with highly sophisticated "reality centres", but in the form of talented youngsters from secondary schools equipped only with basic PCs and access to the Internet. The recent opening up of 3D first-person games engines such as GT Interactive's Unreal, coupled with Internet access to powerful shareware or freeware, is allowing schools and individuals to produce quite impressive virtual portfolios. Even organisations in certain professional sectors -- heritage, petrochemical exploration and nuclear power generation -- are now delivering real applications based on games engines, something which would have once been scorned upon by the rather aloof VR community!
In parallel with this exciting expansion of accessible VR tools and software packages is an equally exciting maturation process associated with human interface technologies, from desktop stereo and panoramic displays to touch screens, multi-axis joysticks, even well thought-out use of mice and function keys. Current generation haptic feedback systems have, for example, been used to excellent effect for detailed digital sculpting of new product concepts for the ceramics industry. Yet these systems are not being used by specially trained computer design personnel, but by existing employees previously skilled in the manipulation of physical, as opposed to digital clay. Faced with the failure of "headset-and-glove" proponents to deliver the fully intuitive immersive experience, today's VR technologies are, after many years of false promises, now capable of delivering highly usable human-system interfaces to industries whose products are dependent on the contribution from unique human manual and artistic skills.
However, the best is still yet to come. Whilst the "killer application" for VR has been -- and will remain -- elusive, there is little doubt that VR is set to become the de facto human interface solution for a very wide range of near- to mid-term applications. Interestingly, it is only over the last 12 months that quantitative evidence has become available which supports the hypothesis of positive transfer of training from virtual to real environments. Together with the emergence from academic and pan-European bodies of human-centred design and performance assessment methodologies (one hopes), such evidence will help fuel the widespread commercial adoption of VR using industry-standard computing platforms and affordable display and interaction technologies. Its place in the engineering, aerospace and defence arenas, for simulation-based design, prototyping and training is already assured. In the medical community, the role of VR in training, surgical planning and competency assessment is now guaranteed, allowing specialists' skills to develop in parallel with the emerging technologies supporting the operating room of the future. In a related field, VR will become the interface of choice for the construction, test and operation of nano-scale biomedical, defence and manufacturing systems. Just as pioneering efforts in the US and UK over a decade ago addressed telepresence on a macro scale, those same principles will drive the design and implementation of interfaces supporting nanopresence. The application of VR and interactive 3D techniques to Web-based endeavours will also cement its future in bringing hitherto isolated geographical, political and religious cultures together, launching World Heritage onto a truly accessible world-wide stage.